Here we are, already, at the 32nd edition of the La Rochelle Serge Vigot Marathon.
What a long way we've come to maintain our position as the 2nd largest marathon in France. And what a pleasure it is to welcome so many athletes to La Rochelle on the last weekend of November. 12 500 of them in 2022!!
Each edition is a new challenge for the organizers, the volunteers and the partners, but always a new pleasure as well.
Every year, we do our most to make sure that the participants are as happy to run as we are to welcome them.
Each year we strive to renew, improve and innovate so that our races continue to surprise and attract both neophytes and confirmed athletes. This year we wanted to focus on the course to make it even more efficient by avoiding reminders.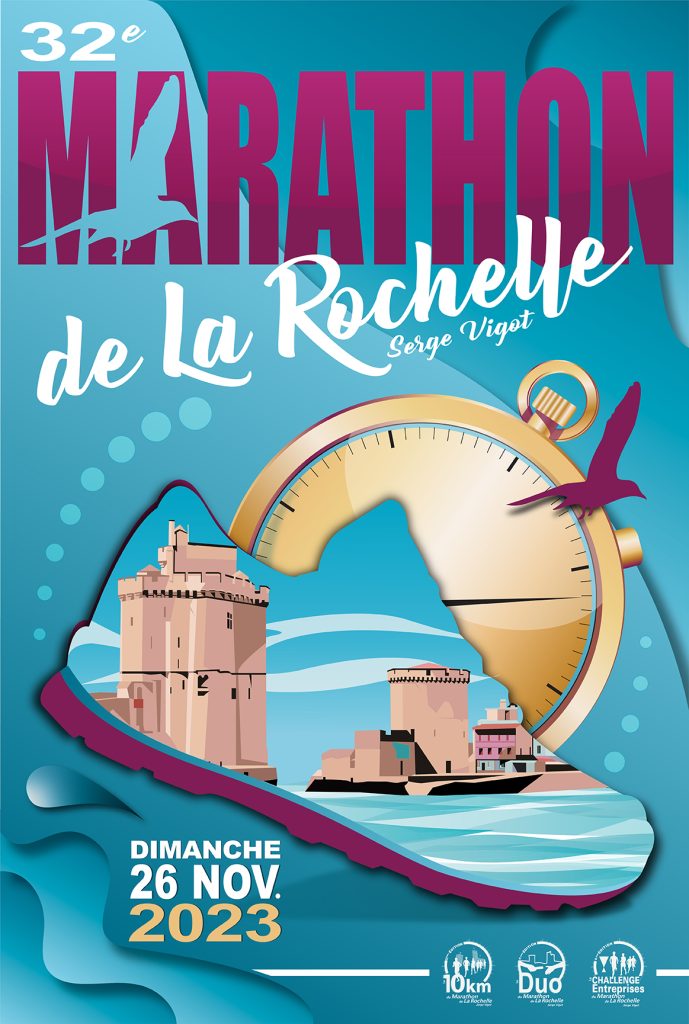 The double start will also experience an improvement. But, don't worry, the historic race remains the highlight of the weekend ! Also, the events that complete the program are confirmed: 10 km, Duo, Companies Challenge and Handisport races.
Our events and the entire organization are increasingly part of an eco-responsible approach to which we are very attached. We are counting on everyone, participants and families, to support us in this challenge, each at their own level, because it is everyone's business.
The village is also the subject to a special attention. Its ever-increasing attendance requires us to be, each year, more supplied, welcoming, interesting, and simply attractive, for the athletes and the partners.
We will be happy to welcome you there again to take a walk around, we hope, and to collect your numbers, of course, in an optimized setting, for the comfort of athletes and volunteers.

As each year, the organizers, the members of the La Rochelle Serge Vigot Marathon association, the employees and the volunteers are eager and happy to welcome you.
We are ready and we renew our thanks to the athletes and accompanying persons, public or private partners, for their loyalty, who make the success and the reputation of our events.
I would also like to renew my thanks to the members of the board and the association, to our employees, to the volunteers, to the partners, public or private who are all a link in the chain of our success.
We hope to see many of you again in La Rochelle on the weekend of November 26, 2023, for the 32nd edition of the La Rochelle Serge Vigot Marathon.
We will welcome you, always with the same enthusiasm and the same pleasure in order to offer you a weekend in the spirit of our founding president, popular, friendly and festive.
Happy racing to all
For the Association
Marathon de La Rochelle Serge Vigot
Its President
Dominique ROUGÉ